Let's face it, landing a new job is hard. You spend hours updating your resume, writing the perfect cover letter, and researching job opportunities in your area. You even dust off LinkedIn! You're ready for the journey ahead, but what's next? For most of us, it's applying to jobs online. It's quick and exciting, but as the weeks roll by no one reaches out. Sound familiar?
You're not alone, only 2% of candidates are interviewed for open positions, and 80% of open jobs are never advertised. We're here to tilt the odds back in your favor and help you strike gold in your job search. Alcamine is a job search platform that brings opportunities to you before they're everywhere on the internet. We only show you the jobs you want to see so you don't have to spend a second scrolling through job after job.
Never Apply Online Again
You've worked hard on your resume, show it off! Alcamine works by taking all of the inbound opportunities you get from job boards, rating them against what you're looking for, and sprinkling in special opportunities that we think you'd be a good fit for. Here's how it works:
When you sign up for an account, you're given an @alcamine.com email address that's unique to you
Place that email on your resume and anywhere you may be contacted by a recruiter
Add your job search preferences like location, salary, skills
When recruiters reach out, they'll respond to the @alcamine.com email address where we'll rate it, add in relevant company details, and place it in your dashboard
As you go through opportunities you can rate them, shortlist them, or take the conversation offline
I know what you're thinking, "you're reading my emails!" Yes we are, but only the ones sent to you. Once you find an opportunity you'd like to learn more about you can "Reply Now" and continue the conversation from your personal email. We are here to help you find a great job and maintain your privacy, not exploit it.
A Better Inbox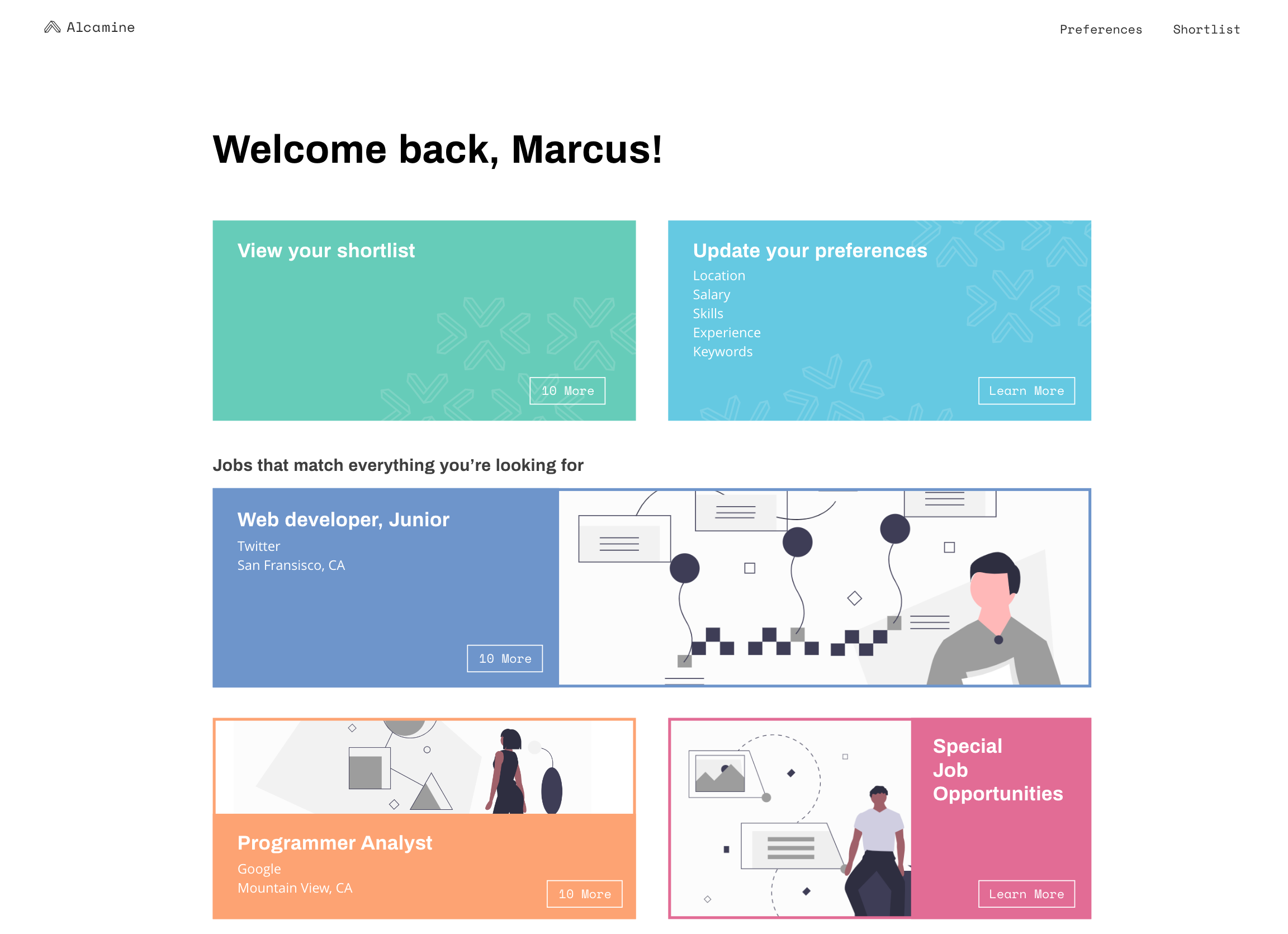 The dashboard allows you to easily see the opportunities that are most important to you. We have a special scoring engine that uses machine learning and natural language processing to make sure we're setting you up with the jobs you want to see. Better yet, we also show you special opportunities before they've been posted online increasing your odds for success.
Know Who You're Talking to
For every job you receive, we try to pull in relevant information to make it easier to judge if this is something you'd be interested in. We also rate every email from 0-5 based on your job preferences.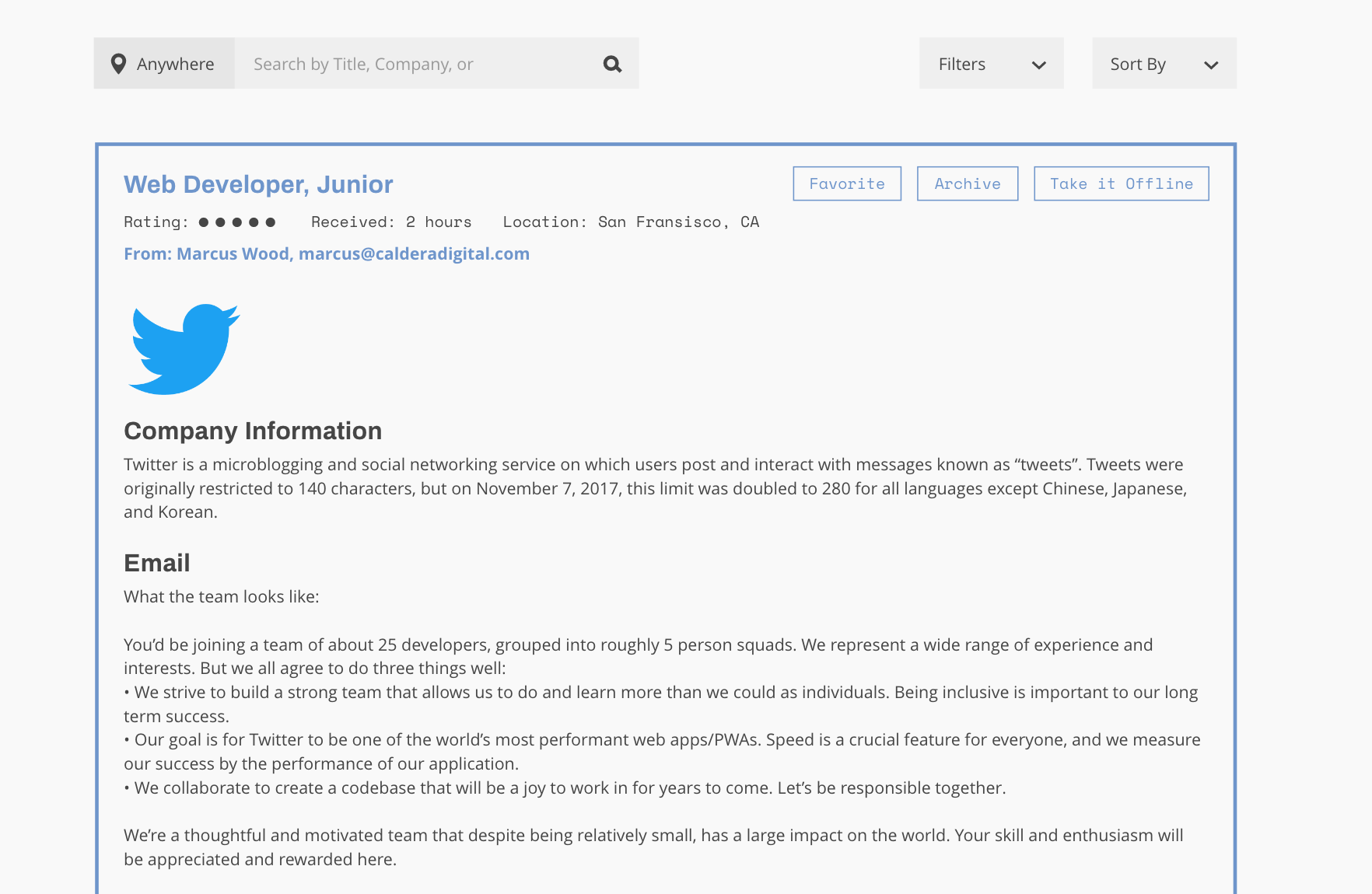 How Do You Know It Will Work?
Through our internal testing, we've seen tremendous success on the amount of opportunities that come through the door. Most of the team (including me), has been in charge of hiring in the past and know how to make a resume sing. Over the next few weeks we'll be sharing tips and tricks on how to get the most out of your resume.
Shred It!
Every week, we'll be shredding someone's resume in the most kind and polite way possible 😇. We want to show you how recruiters and hiring managers view your resume, and give you actionable feedback on what you need to change to land that job. If you'd like your resume to be shredded, email it to marcus@calderadigital.com with Shred It and follow the submission instructions.
What's Next
We're building out the final part of the platform, and will be entering beta in the coming weeks. Please subscribe to the newsletter below to get on the waitlist for the app. We'll be sending out weekly updates on our progress and writing articles on how to land a tech job in 2019.
If you think this is something you'll want to use one day make sure to sign up now so you can claim your email. Once it's gone, it's gone for good!