How We Look At Resumes
If you ask ten people for resume advice, you'll get different responses. We look at your resume as if we're evaluating you for an interview, and that means our feedback will be different than what you may receive from a recruiter or professor. We aren't going to say put in certain buzzwords or optimize your resume for an applicant tracking system (ATS) because we assume you'll be bypassing the ATS. Engineers look for the meat and potatoes of a resume, and that's what we're here to help you cook up!
Background
Laura graduated from college in 2017 with a degree in Sociology and has been picking up coding on and off ever since. This year, she completed a data analytics bootcamp to fully commit to starting a career in computer science. She's seeking a frontend developer role to start and wants to transition into full stack application development.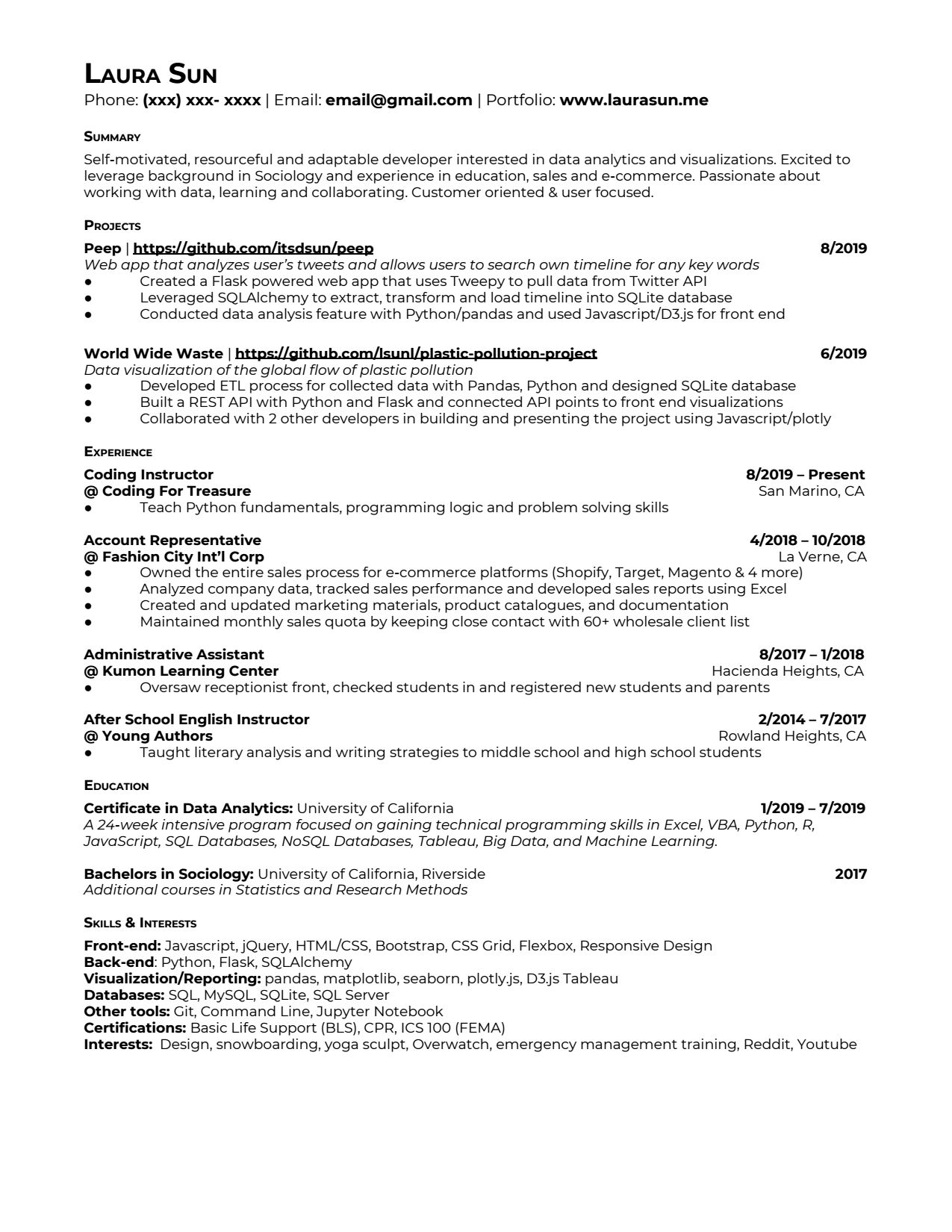 First Impression
Every resume I review gets what I call the fifteen second look over. I glance at it from top to bottom to get a vibe of tech, skills, and a loose understanding of what level candidate I'm evaluating. Then, I start from the top and work my way down. It's crucial to come out swinging at the top of the page because some people may not make it to the bottom.

Love the contact information portion - it's clean and has the exact right amount of information. A lot of people put their location on there, but it's a slippery slope. Let's say you live in a suburb of a big city, but the reviewer's never heard of it. They might make an assumption for you that you won't like commuting that far and you're disqualified before you even make it through the door. People look for reasons to say no, don't give it to them!
When it comes to the summary/object/intro/insert buzzwords section, I can live without it. Once you've reviewed 100+ resumes, all of them sound the same and we know your objective is to find a job. If your resume has hit my inbox, I'm assuming you're a quality candidate that's detail oriented, motivated, excited, self starter, problem solver… you get the point 😄. Instead, take that really nice intro and put it in your email that has your resume attached. Bonus points if you read about the company and relate your experiences.
What's next is a gamechanger that I don't see new devs doing enough. This can be the difference between getting interview and not. Lead with your projects if you don't have professional experience. I used to sell Verizon FiOS, but that has nothing to do with being a developer (or this blog 😅) so it shouldn't be at the top. Bury that down the page where people may not look at it because a sweet project matters much more than where you've worked in the past. Not only that, BUT the Github link is listed right there so I can go digging in the code ⭐️.
Quick aside: Make sure the rest of your Github profile is up to snuff if the links are on your resume. I'm going to go creeping, and if I see 50 forked repos that makes it look like you're a 10x dev that's not going to help your case.
What do I look for? I poke around the code and see what patterns and libraries you're using. I rarely pass on someone due to the code because I understand it's a side project and some of the code on my Github is hot garbage. I will look to make sure API_SECRETs aren't committed to the repo and that does play into my decision.
Meat and Potatoes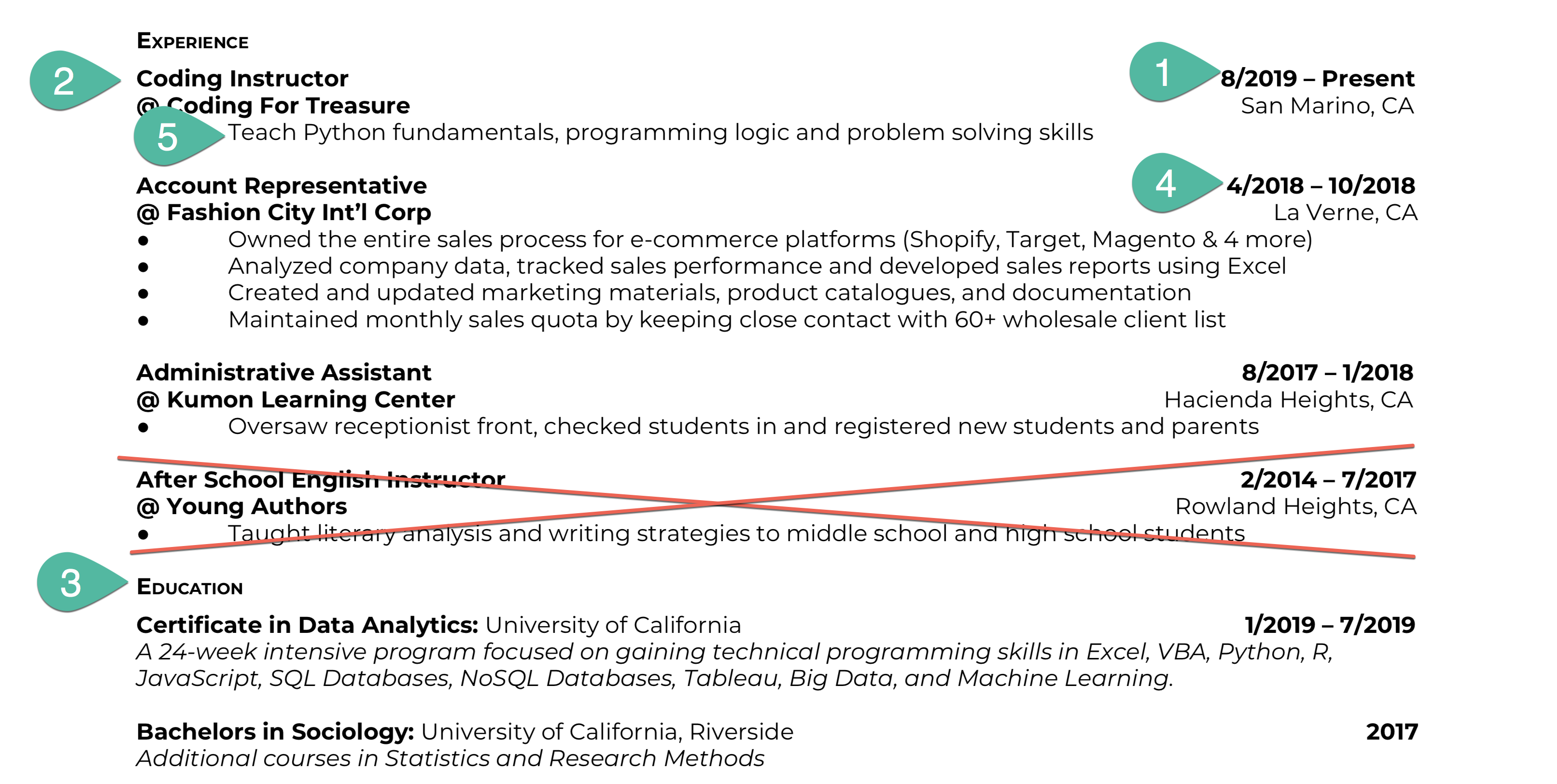 The green tabs with numbers is the order that I looked at the content. I always look at the date of your current position to see how long its been. If it's shorter than fourteen months, I'm not going pass, but you'll be getting a question about it during the interview. Next up, I look at your current position and title, glance at education, check what your tenure was at your other job, and then start reading what you're currently doing.
One thing I see is something similar to my resume in the early days when I did the job switcheroo a bunch because I had no idea what I wanted to be. People say that's what college is for, but you really never know until you try something and hopping doesn't bother me a bit if it's early on. Here though, I see four jobs two years and already applying to another. I would axe the bottom one because it doesn't lend much value to what you're applying for, and is a quick reason for someone to pass.
The bullet points are just ok, they're not hurting but they aren't helping either. They're talking about what you did, but not the impact you had. I know administrative assistant likely didn't give the opportunity to flex your analytical muscles, but adding something that showed initiative and get up and go is good here. It's hard to beat the Google formula on bullet points:
Accomplished [X] as measured by [Y], by doing [Z]
I'd like to see more of that here. For instance, "Maintained monthly sales quota by keeping close contact with 60+ wholesale client list." I think that's one of the best bullets on the resume, and sure it had a big impact but not seeing it show through.
I like the education section, and the UCal Data Analytics course sounds super interesting. I'd ask about it in an interview for sure so be ready to talk about it.
Lasting Impression

Wrapping up I always look at the bottom even if I don't pour over every bullet in the middle. The bottom always gets the last look. That means it's your chance to stand out of the crowd! Let's say I review 30 resumes in an hour, one with a lasting impression goes a long way.
This is a solid finish. Listing out your tech is clean instead of the obscene one page list of buzzwords I see on some resumes. I could take it or leave it with responsive web design. My expectation is you're developing for mobile, but it could help recruiters. The empty rectangle is for Node/Express. It'd be something you could pick up relatively quick and is likely a requirement for most positions you'd be applying for. Just an option, nothing wrong with Flask.
I'm a big fan of interests on a resume and for the longest time I didn't have them on mine. However, I spoke with a Google employee who shredded my resume in college, and he said to put them on there and make them interesting. Hence, lasting impression. No one is going to toss your resume into the dumpster for one harmless line of funsies on your resume, but they might remember you. I'm from the country so I have no idea what yoga sculpt is, but the fact it's next to Overwatch I'd say is a first. A+ finish.
Looking for a job?
The waitlist is currently open for Alcamine, a new kind of job platform that let's the jobs come to you and ranks them based on what you want. We're going to be launching soon and are excited by the results we're seeing interally! Please sign up below to be the first to know when we launch our beta (it's free 🙌🏻).
If you'd like to have your resume reviewed by us, please review the submission guidelines and send it to marcus@calderadigital.com.
Thank you for reading!