How We Look At Resumes
If you ask ten people for resume advice, you'll get different responses. We look at your resume as if we're evaluating you for an interview, and that means our feedback will be different than what you may receive from a recruiter or professor. We aren't going to say put in certain buzzwords or optimize your resume for an applicant tracking system (ATS) because we assume you'll be bypassing the ATS. Engineers look for the meat and potatoes of a resume, and that's what we're here to help you cook up!
Background
Candidate is looking for a manager/director/leadership role in digital marketing. Has years of management experience and has grew the current firm's digital presence. The industry itself doesn't make that much of a difference, however in the future, the candidate be moving to FL and will be not only been looking at the healthcare industry (current industry), but also in hospitality, entertainment, or food at a corporate level (Disney, Universal, Darden, Planet Hollywood) because that presence is so strong there.
First Impression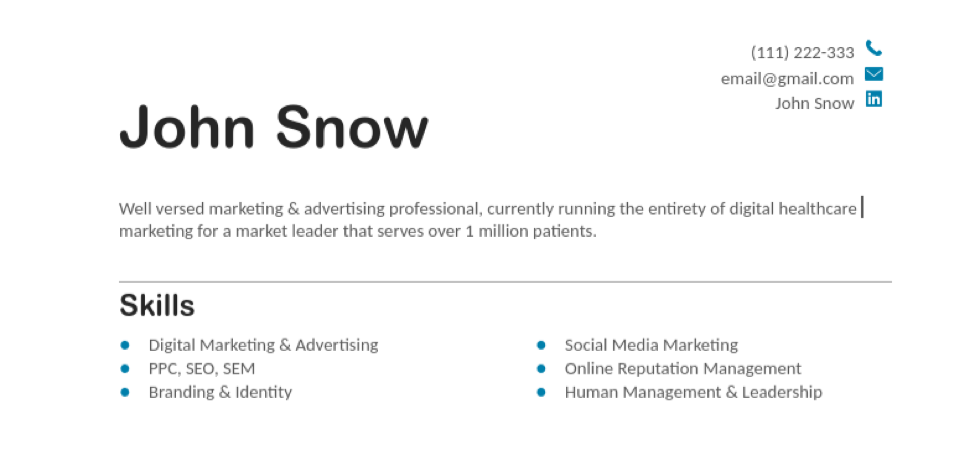 Your name is too big and takes up too much of the first half of the sheet. Try streamlining your contact information so that it's two lines across the top. This will make it cleaner, easy to read, and move the eye onward and down quickly.
You've listed your skillset in two separate parts of your resume, and both at the top before the good stuff an employer will actually want to get to. I would take out both your first sentence and your listed Skills unless you can justify including them. Right now, your listed experiences aren't very specific.
If you do choose to take up the space on a resume to note your skills, they should be specific, detailed, and wow-worthy. Social Media Marketing doesn't tell me much about what you've mastered. Are you an Instagram graphics designing wiz? Do you write content and copy for Twitter? Same goes for Branding and Identity. Are you a logo designer? Do you write target email content? The more specific you are, the more worthy these skills are of being listed on your resume.
Meat and Potatoes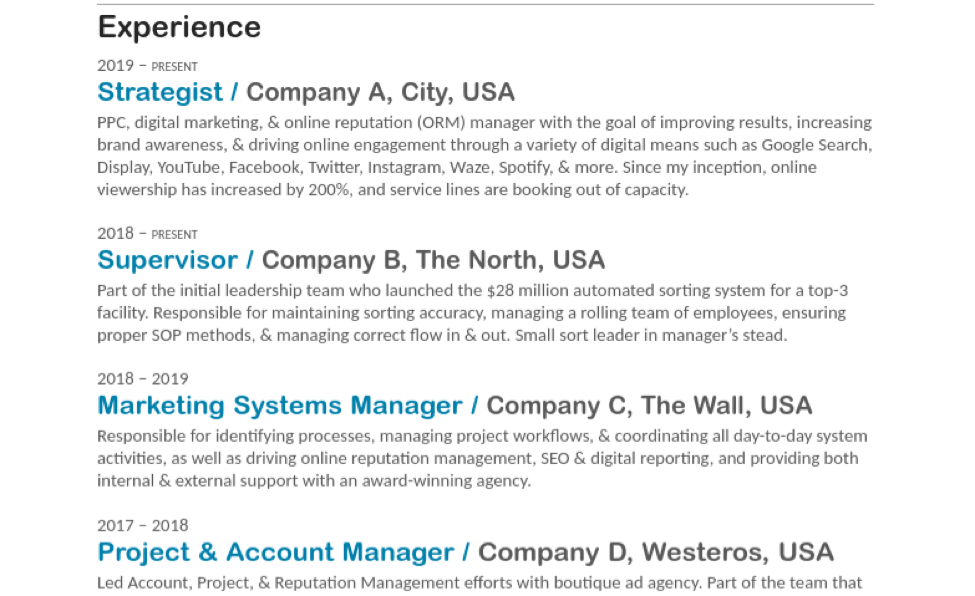 Right off the bat, I would suggest you break down your experiences into bullet points. Bullet points will help eliminate any fluff words and make it easy for an employer to understand your experiences at a glance.
Include your role/position under the company and move the years of your employment below your role, making everything compact and together. Your company name and years working for them are getting lost in the current set up. The city of your job can also be minimized so as not to draw as much attention as the company and your role. This will allow employers to focus more on what you did/do and are great at in the body bullet points!
Your past jobs should also be written out in past tense. (i.e. Identified processes, managed project workflow, and coordinated all day-to-day activities.)
Always list your experiences in order to wow. In your current role, you've increased your viewership by 200% - that should be first! Show off why you are desirable and what you're good at, especially if it's relevant to the job you are applying for.
Take out the word 'responsible.' If you're listing it on your resume, we are going to assume you did it and did it well. Instead of "Responsible for identifying processes" say, "Identified processes and coordinated day-to-day systems to do XYZ." Share with us what you accomplished for the company, not just what you mastered by working for them.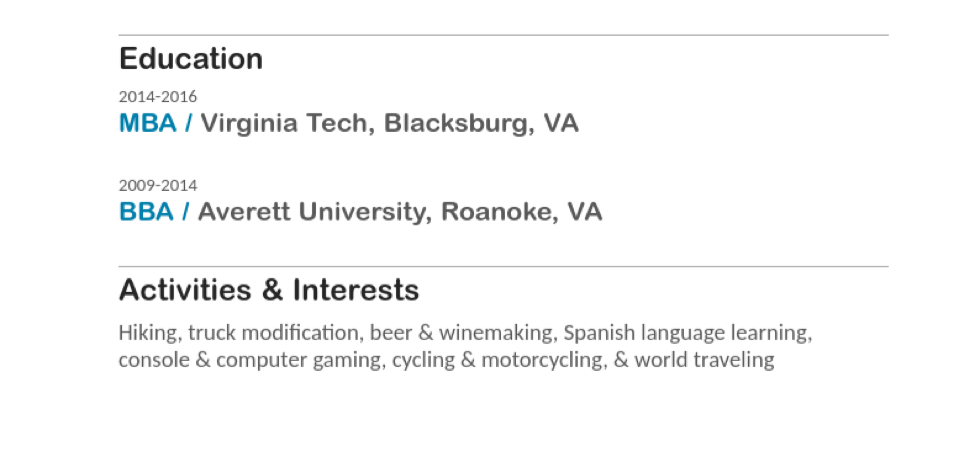 Your education should have some more meat to it. Share what you majored in, your minors, and any awards or major extracurriculars you were a part of. Sometimes this information can help form connections with an alumni or fellow fraternity brother.
And lastly your Activities and Interests! There is nothing wrong with sharing a little bit more about yourself, but make sure that anything you list specifically ties into the job you are applying for. I would be interested in knowing you make wine and beer if you were applying to work at a distillery as a marketer because that means you understand the process where others might not. But if you can't tie in your activities to the job you're applying for, it's better to use that space to list out specific skills or tools you are an expert at.
Lasting Impression
Overall, this resume has some solid work examples, it just needs some work on the presentation and cleaning up of the extra fluff that will make it stand out. If you can, try to keep your resume to one page, because most employers won't make it through to the second page. When it comes to resumes, less is more.
Looking for a job?
The waitlist is currently open for Alcamine, a new kind of job platform that let's the jobs come to you and ranks them based on what you want. We're going to be launching soon and are excited by the results we're seeing interally! Please sign up below to be the first to know when we launch our beta (it's free 🙌🏻).
If you'd like to have your resume reviewed by us, please review the submission guidelines and send it to marcus@calderadigital.com.
Thank you for reading!